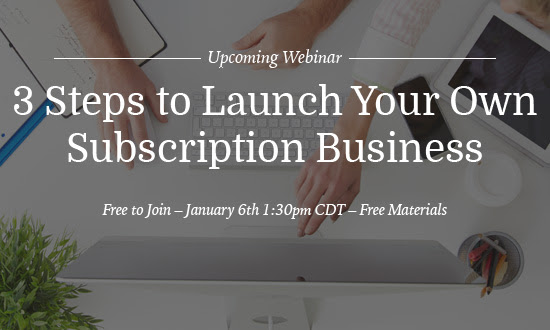 Announcement: I'll be hosting another webinar with the good folks at Cratejoy on January 6th.
The last webinar we covered was "All the Reasons Why You Should Start a Subscription Service", which is now available on Subscription School.
This week, we've covering much of the same, but outlining a bit more around the levers you'll pull for launching. Specifically, we're covering "3 Steps to Launch Your Subscription Service"
And don't hesitate with this one. In this week's webinar, I'm jumping into the SPECIFICS of your launch. We'll work through these 3 steps, look at examples, get you resources, and hopefully, provide some confidence and direction for your new business idea.
What we'll be discussing: How to Price Your Subscription Box
We'll cover:
How to prelaunch and gain "presubscribers"
How to push traffic to your launch page and lead nurture
How convert your presubscribers
Timing, branding, and so much more.
Includes Q+A session. 
When: Wednesday, January 6th 2016 at 1:30pm CDT
Spots are going QUICK. Reserve your spot immediately. We just announced it and have over 160 RSVP'd already – we expect it to overflow last week so make sure you're early!
About the Hosts: 
This week's webinar is hosted by me, Jesse Richardson. I've built a handful of successful subscription businesses, some of which have been acquired or sold. These days, I own a new subscription business, work with Cratejoy educating merchants, and host webinars.